George Trumbauer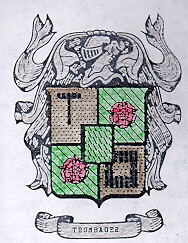 George Trumbauer, emigrated from the Rhenish Palatinate to Pennsylvania, a few years before 1733. The birth and death dates and the name of his wife are unknown.
The first record we have of George Trumbauer is the issuance of a Warrant by the Penns to him for a tract of 100 acres in Frederick Township, then Philadelphia County, now Montgomery County, Pennsylvania on October 14, 1734. The location is just north of the present village of Obelisk, Frederick Township, Montgomery County, on the road leading to Perkiomenville, with the Old Goshenhoppen Creek crossing the land. He sold this 100 acres January 24, 1753. After the sale of the Frederick Township tract the family moved over into Lower Milford Township, Bucks County, now Milford Township.
As to what caused George Trumbauer to sell his farm in Frederick Township, we cannot be sure, but we can see that Andrew, his son may have married by this time and looked for and settled on a tract that he desired, on thing is certain when both tracts are viewed today, the lay of the land of the Milford Township tract is a lot more desirable than the one in Frederick Township.
This family was affiliated with the New Goshenhoppen (St. Paul's) Evangelical Lutheran Church near Red Hill, Pennsylvania, located in the Perkiomen Valley, where we find records of his children. His children were; Andreas (Andrew), Anna Maria, Elizabeth Greta, and Anna Margretha.

Andrew Trumbauer - Juliana
Andrews father George sold land in Frederick Township in 1743 and records show that Andrew bought 30 acres adjoining land already owned on Sept 4, 1745 in Lower Milford Township, Bucks County, Pennsylvania. This land was located at the eastern end of the present day borough of Trumbauersville and extended across the Richland Township line. Next we find his name on a Petition for a road through Milford Township in 1750, he signed in German Script.
On Jan. 16, 1762 he purchased 90 acres of land and later sold this same tract to his son Philip on Mar 8, 1782. Then came some apparent difficulty regarding an obligation as we find the Sheriff selling a tract of 40 acres and 23 perches, for which a deed poll was given to Nathan Roberts, the highest bidder on March 14, 1770. On January 30, 1783 Nathan Roberts sold this tract to Philip Trumbauer, Andrew's son, thus Philip had both tracts.
In the late August and early September of 1764 members of the newly organized Wentz's Reformed Church in Worcester Township, Montgomery County, made a collection among the citizens of the whole area for funds to build a new Church Building - they came to Great Swamp as the Milford and Richland Township area was often called, and among the contributors toward this good cause was Andrew Trumbauer contributing 5 shillings. The 5 shillings was the largest contribute of this group.
In 1773 we find Andrew Trumbauer living in Frederick Township as he was selected to serve as Overseer of the Poor in that Township for that year. This must have been for a temporary period as he was again in Lower Milford Township in 1775 when he was among the Associators Roll of that township.
On the 3rd of Jan 1774 deeded one acre of land to the United Congregation of Lower Milford Township, Bucks County, Penna., this plot today is the Church Cemetery, the present Church Building is to the right of this located on a later purchase. Andrew owned all the land northwest of the crossroad and north of the "Allentown Road" then called "the Philadelphia to Saucon Road," thus it was on his land that a large part of the town of Trumbauersville is located.
When the War clouds of the Revolution cast their shadows across Lower Milford Township and Richland Township, Andrew Trumbuaer and his sons enrolled in the Associated Company of Militia for the Lower Milford Township Company.
He was listed on the Committee of Safety January 22, 1776 in Lower Milford Township.
When Nathan Roberts deeded the 40 acres and 30 perches to Philip Trumbauer by deed on Jan 30 1783 there is this notation in the deed, "the late Andrew Trumbaur", showing that Andrew Trumbauer must have died since the spring, and probably between October and December of 1782.
Andrew and Juliana had five children: Henry, John Nicolaus, Maria Elizabeth, Philip and George Michael.

Henry Trumbauer - Elizabeth Fricke
His parents had settled in Lower Milford Township before 1745, therefore Henry Trumbauer was born in Lower Milford Township, Bucks County, Pennsylvania. His father added ninety acres to his farm in 1762 when these sons were coming to maturity and taking over more of the work on the farm.
It appears that right after the marriage of Henry Trumbauer he purchased a tract of 100 acres in adjoining Richland Township, not far from the parental farm. The tract is located but a mile north of the present Borough limits of Quakertown of today. Later he purchased an additional 12 acres so that at the time of his death, in 1813, his farm totaled 112 acres. In 1779 he was assessed for 112 acres, 2 horses and 4 cows, showing that he had made nice progress in the intervening years.
The earliest Church Records of he and his family are found in the St. Paul's (Blue Church) Lutheran Church, about two miles west of present Coopersburg. He and his wife affiliated themselves with that congregation prior to 1784, as it is in that year we see them recorded for the Lord's Supper at that Church, and from there were recorded yearly except for four years, thus being regular communicants at that Church.
It seems they must have transferred their membership about 1803 as the records of the Trumbauersville Lutheran Church show that he was elected to the office of Deacon in that Church in 1805 and served until 1808. About this latter year the Lutheran Church at Richlandtown was organized, which was nearer their farm, so we see he and his wife as sponsors at three baptism, shown in that record.
On one of the last pages of that Church Record it states that Henry Trumbauer's name appeared on the Deed for the land on which the church was built. It was a Union Church between Lutheran and Reformed until two decades ago. During the next half century a few of their children and their families, held membership in this Church, as shown by the baptisms of the children.
Henry and his wife, Elizabeth, as well as other members of that family, are buried in the East Swamp Mennonite Church Cemetery, adjoining the Church, with the earliest burial 1705. He and his wife are buried in the first row of the cemetery, just inside a stone wall. The tombstone of Henry Trumbauer (1745-1813) states that they had nine sons and three daughters. This is correct but did not take into account the son Joseph that died in infancy, thus having thirteen children. The tombstone also states that the birth date was January 13, 1745 and the date of death November 14, 1813 and "age 68 yers, 8 months, 29 days." Elizabeth`s stone is a badly weather beaten red shale stone with the ELIZAB showing on it, and broken on that right side. Farther back in the cemetery are graves of their children; Henry and wife Veronica, son Henry and wife Sarah, and one small stone in the front row beside Henry that is probably Joseph.
Their children were: Catharine, Henry, John, George Adam, Jacob, Samuel, Elizabeth, Mary Magdalena, Joseph, Solomon, Joseph F., Johann Phillip and Michael.
By observing the legal papers to which he was a party, it can be seen that he had very little formal education, as he used as his mark, the letter H, in signing the legal papers.
That Henry Trumbauer was in declining health seems certain as he had his Will written on October 18, 1813. In this Will he provides for his widow, Elizabeth by a dower in the land, for income, and all the household goods she needs, and the children living at the time are mentioned.

John Trumbauer - Maria Magdalena Heist
John Trumbauer was born in Richland Township, Bucks County, Pennsylvania and grew up there. It is believed that after his marriage in 1801, he and his wife may have moved to his wife's family, but at sometime later he purchased a farm there in Upper Hanover Township and had been prospering, as we see that at some time in the period of 1801 to 1831, he had loaned his brother Henry Trumbauer 2nd of Richland Township some funds.
He and his family were affiliated with the New Goshenhoppen Lutheran Church (known locally as the Six-Cornered Church), near Red Hill, Pennsylvania. He was elected a Deacon of that Church on Sept. 29, 1817 for a term of four years. In 1802 in the referendum of that congregation on the question of building "a six cornered church building", he voted for this plan. The records also show that on Sept. 29, 1818 at settlement, he turned over $48.40 1/2, his collection from his allotment of members in the annual Deacon's collection for "Pfarrer's Gelt", the Pastor Salary.
He died Intestate and his widow, Magdalena, was appointed Administrator of his Estate, File # 18861, but she revoked her right in favor of the oldest son. She died in 1862 and her administration records are found in Orphans Court, Bucks Co., File No. 17026.
They had eleven children; John, Henry, Philip, Lydia, Elizabeth, Joseph, Jacob, Maria, Peter, Catharine and Isaac.

Peter Trumbauer - Mary Boyer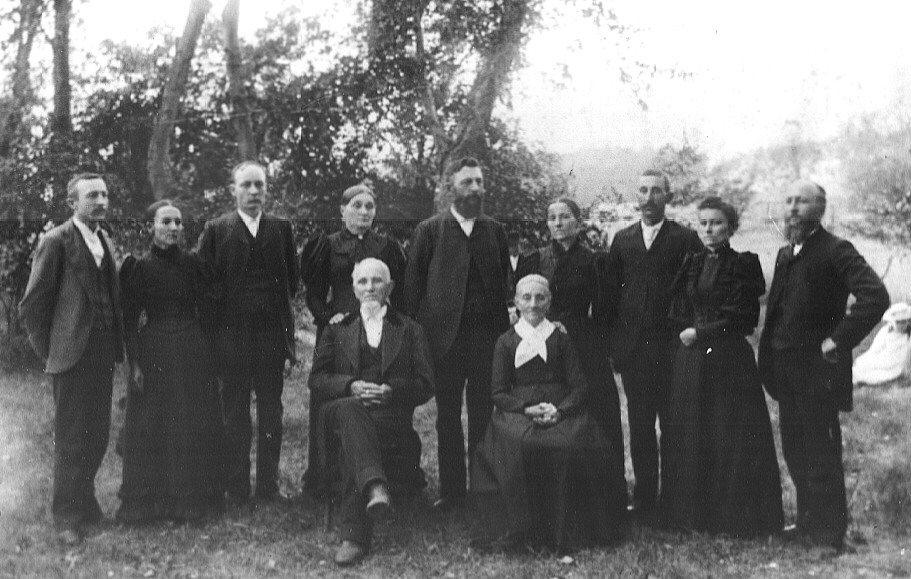 Peter was reared in Upper Hanover Township, Bucks County, Pennsylvania, and was married in the New Goshenhoppen Lutheran Church. After his marriage he purchased his father's farm in that Township and lived there for 29 years. They sold the farm and in the Spring of 1865, with their nine children, moved to Iowa, where they bought a farm four miles northwest of Jesup in Blackhawk County and where they lived until 1882, when they sold that farm and bought another three miles southeast of Jesup, where they remained until the death of Mary Boyer Trumbauer, which occurred January 23, 1897. Peter then sold his farm and lived with his daughter, Mary Ann Freed, and spent part of the time with the other children. In the spring of 1900 he left Jesup for a visit with his daughter, Lydia Basse at Beloit, Kansas, at which place he took sick with grippe, and after four days he died on January 12, 1901. He was buried at Jesup, Iowa.
Peter and Mary had nine children: Mary Ann, Jacob Boyer, John B., Lydia Ann, Nathaniel B., Diana, Peter, Andora and Edwin J.