Roy Winfield "Silas" Thurman
Joan Thurman Case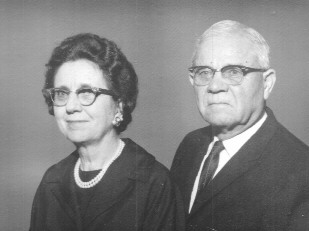 Roy Winfield Thurman, known to his friends as Silas, was born the 7th of February 1885 in Tulsa, Indian Territory (now Oklahoma), in a log house, up on the hill on the south side of 71st street, about a quarter mile east of Lewis. His father was William Henry "Billy" Thurman and his mother was China Perryman. He had a sister, Alice (Mary Alice) who was about five years older than he. He also had a half brother Reuben Partridge and three half sisters, Delila, Kizzie and Louisa Partridge.
Reuben Partridge, who worked at the J.M. Hall Store, looked after Silas and Alice after their mother died, although they did see their father from time to time. Aunt Rachel Perryman, wife of George, took Silas because he had been sick and was about to die, and nursed him along with her daughter Mamie. Later, Silas and Alice both stayed in the Ben Haggey home south of Broken Arrow. Next, they stayed at a home where the Shannon Furniture Store used to be, at 2nd and Boulder in downtown Tulsa. They next went to the home of widow, Lydia Childers, at 1st and Boulder. While staying with the Widow Childers, Silas and Alice decided to run away. When Reuben found them they were going down first street carrying their hump-backed trunk between them. Alice then went to stay with her uncle, George Perryman and later Lila Lindsey, a cousin of her mother, while Silas went to live with his uncle, Legus Perryman who lived at 8th and Main in Tulsa. Silas and Alice never again lived in the same home together. (Alice later married Ernest Drew, had 3 boys and died of tuberculous in 1907).
Legus placed Silas on the Creek Indian Roll (number 2947), which entitled him to receive an allotment of 160 acres of land. He later sold this land, which was located at 61st and Lewis, (where Southern Hills Country Club is now located) for $4,200. Alice's 160 acre allotment was located at 41st and Peoria.
At the age of about 6 or 7 he started to school, which was located at 4th and Boston, and attended about eight years. Creek was the only language he spoke before going to school. His teachers were: Jennie Springfield Hall, wife of J.M. Hall; Alice Springfield; and one other Springfield sister.
He and other boys would play hooky from school. They would play one of their favorite games, running races over the Frisco Railroad Bridge, which spanned the Arkansas River. The steel girders were about three feet wide. One boy would get on one side and one on the other, climb up one span and run across the top and slide down the other side, then climb up the next span and run across and slide down again, and keep doing the same until they crossed the river. There was a lot of water in the river in those days.
Legus Perryman was chief of the Creek Nation when Silas came to stay with him. Silas remembered one time that Legus heard a noise in the night and thought someone had come to kill him. He ran down the street to his secretary's (Sam Davis) house with only his red long-johns on with the tail-flap flapping in the breeze.
Homer Perryman, Silas' nephew, also came to live with Legus in 1895 when he was orphaned at the age of two. Homer's father, Andrew Perryman (Legus' son), had been killed in the Hall store when he shot into a keg of dynamite (while drunk) which exploded. Homer's mother, Kizzie (half-sister to Silas), died of grief.
Silas also remembered (but did not participate in) the race riot in Tulsa when a negro raped a white woman and they burned out "nigger" town.
When he was young he played on Tulsa's Oilers baseball team.
On April 14, 1905 a daughter, Eudora Euga was born to Silas and Mamie Sloan. Her mother later married Lee Keller and Eudora used his last name. She attended Tulsa University and was a art teacher in the Tulsa schools. She married Kenneth Edward Laverne Collins and had two children; Grace Laverne, born 6 March 1929 and Kenneth Lee born 30 June 1931 in Tulsa. Eudora died February 23, 1951 in Tulsa of cancer. She never knew who her father was.
About 1906, Silas married Maude Evelyn Reeder, the daughter of James Lewis and Bell Reeder. He always referred to his father-in-law as Brother Reeder. The Reeders came to Catalie, Oklahoma from Joplin, and then to Tulsa, and lived on Zunis near Swan Lake. Maude's mother had died and her step-mother was Sarah Munson.
Silas and Maude had three children all born in Tulsa: Paul Legus, born 29th of March 1908, Elmer, born March 1910 and a daughter born August 1911. Elmer died young and the daughter probably at birth or shortly after. After Maude died (5 August 1911), Paul stayed with his Reeder grandparents.
Silas was a convert to the Pentecostal religion when it first started in Tulsa on Brady Street about 1906. He became a charter member of the Full Gospel Tabernacle (later Central Assembly), located at Fifth and Peoria in Tulsa. They used to have ceiling fans in the church and he would always have to be to church at least a hour early to get a seat under one of the fans. After his conversion he gave up drinking, smoking and swearing. He loved to read his Bible, and in the early days was a Sunday School teacher.
He worked on farms for Dave and Bob Shipman and Gus Thompson, near Burbank, Oklahoma some of the time as chuck wagon cook. In the Oil fields near Boynton, Oklahoma he pumped oil and dressed tools. Later, he worked at Red Ball Transfer Company in Tulsa, and as cement finisher on the curbs in Tulsa and on Walter Goodman's farm, near Alsuma, Oklahoma. Then about 1919 he worked for J. A. Cline in Tulsa, where he met Fern. In 1921 he worked on the farm of Lawrence Cline in Kansas and later for Walter Stunkard in Tulsa.
Silas and Fern eloped on the 20th of January 1923, and were married in Sapulpa, Oklahoma. He was 37 and she was 18. The Clines did not think too much of him as a son-in-law at first, they said "Fern would just have a bunch of little Indians." They lived first on Archer Street near the Street Car tracks in housekeeping rooms. Second they lived on Maybelle Street in housekeeping rooms and were neighbors to the Tomlins. The third place they lived was in an upstairs apartment at 6th and Peoria. One day they came home from work and the landlord had moved them to a downstairs apartment so after that they bought furniture (kitchen cabinet, stove, ice box, library table, 2 chairs, living room suit, victrola and bed room set) and moved to 1005 W. Brady. This was a duplex and Fern's cousin Jay Basse lived on the other side. They next bought an acre and a quarter and in the summer of 1928 built their home at 6204 S. Trenton, the Biles Nursery did the landscaping.
In 1923 he got a job at Joe Hodges Warehouse as a truck driver and later as warehouse foreman, working until September 1950 (27 years, 7 months) when he had a light stroke and was no longer able to work there. While working at Joe Hodges he was nicknamed "Blackie" by everyone he worked with. Joe Hodges did pool-car distribution to wholesale grocers. Dry beans would spill on the floor of the train cars and Silas would pick them up and bring them home. This was during the depression and they ate some of them and gave some to the school to be cooked for the children who didn't have any lunch.
There were several negro men working for him in the warehouse and was a friend to all of them. When he butchered hogs some of them would come out and help him so they could have the intestines "intrals". He would cure his own meat in a smoke house in the back of the garage. He built a barbecue pit in the back yard and cooked a lot of meat on it even though it always made him sick to do it.
Silas and Fern had two children: Beverly Joan, born the 10th of January 1929 at home; and Donald Wesley, born the 30th of September 1938 at the Flower Hospital in Tulsa.
He always liked to have a dog, cow, calf, chickens and garden, and sometimes had rabbits, turkeys and a pig or two. They bought a 100 acre farm in Chelsea, Oklahoma and moved there in February 1951, raising cattle, which is what he had always wanted to do. In the spring of 1959 they sold their farm and moved back to Tulsa when his health would no longer permit him to stay on the farm he loved. They built a house just south of their old house at 6208 South Trenton and moved in the latter part of 1959.
He owned the following cars: new 1928/9 green Chevrolet coupe; used 1935 maroon Chevrolet; used 1936 black Chevrolet; new 1939 black Chevrolet; used 1947 blue Plymouth; new 1953 green Plymouth; new 1955 red and white Plymouth and new tan 1962 Plymouth. He never traveled more than 175 miles from home in his whole life.
He loved to eat all kinds of good home cooking. He was an expert at cooking steak, which he loved, and always had to have a piece of bread and a slice of onion on his plate. He was especially fond of glazed bakery donuts and oyster soup which he made quite often.
He suffered from high blood pressure and gout and had a prostrate operation. The last words he spoke were in the same Creek language he spoke in the beginning of his life. He died the 1st of May 1967 at the Indian Hospital in Claremore, Oklahoma at the age of 82. His funeral was held the 3rd of May 1967 at the Central Assembly of God Church (old Full Gospel Tabernacle), Fifth and Peoria, Tulsa, Oklahoma and was buried at the Floral Haven Cemetery in Broken Arrow, Oklahoma.